India's most beautiful and royal state Rajasthan is also famous for its delicious foods. The land of Kings Rajasthan is a paradise for foodies. The foods of Rajasthan have influenced the tourists over the years. In this sandy state, visitors enjoy the wide range of authentic foods and get the chance to visit its heritage beauty. The freshly used ingredients and collection of spices make every Rajasthani food delightful.
Moreover, you learn the uniqueness of the Rajasthan cuisine during your Rajasthan tour. Your Rajasthan tour will be more elegant and exciting when you taste the wide varieties of Rajasthan snacks, sweets and main course. By booking Rajasthan tour packages, you can taste the vegetarian and non-vegetarian food collection of Rajasthan.
Let's follow up to learn about the 12 delicious and popular food of Rajasthan below. 
12 Delicious Foods of Rajasthan
Rajasthan is the state of culture and tradition. The heritage climate of Rajasthan will be more wonderful with tasty Rajasthan traditional foods. The sweetness of Rajasthani desserts and the spiciness of street snacks will melt your heart. So let's check out twelve delicious and delighted Rajasthan food items below. 
1. Dal Bati Churma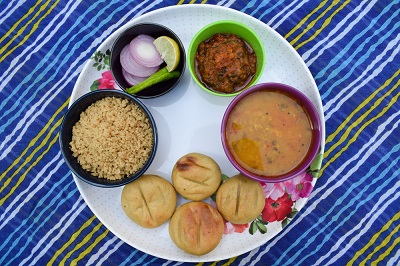 The most traditional and delicious food of Rajasthan is Rajasthani Dal Bati Churma. The crunchy Bates are deep into pure ghee. Then it serves with spicy Dal and sweet Churma. The authentic flavour of this dish is trendy in India. The unique preparation process of Dal Bati Churma will give a mouth-watering taste to each tourist. Moreover, the combination of crunchy, sweet and spicy Rajasthan food recipes will provide you with a fantastic experience. 
2. Red Meat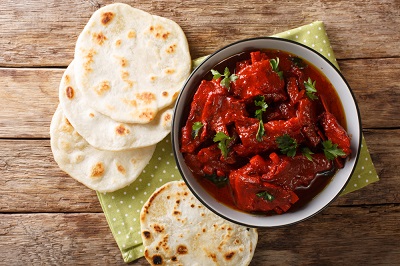 Not only vegetarian foods but also the cuisine of Rajasthan offers delicious non-vegetarian foods to its visitors. The spicy and colourful Laal Maas will give a delightful taste to people. The red meats are specially made with hot red chilli and tomato gravy. The sizzling and spiciness of this are incredible with rich and Roti. Moreover, in every restaurant and hotel of Rajasthan, you can taste this fantastic spicy dish with your family and friends. 
3. Mirchi Vada
Another famous dish of Rajasthan is Mirchi Bada. This is an excellent snack for the evening. The hot green chillies are deep in gram batter. Then the vada is deep-fried in the hot oil. After that, the crispy and hot Mirchi vada is ready to serve with tea. However, the fantastic combination of Mirchi Vada and tea is scrumptiously delicious and complimentary food for every Rajasthan visitor. 
4. Pyaaz Ki Kachori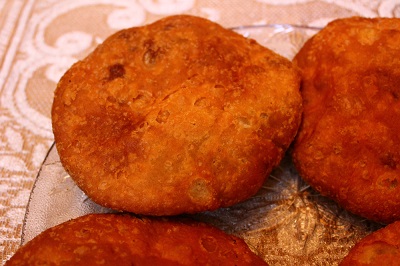 Moreover, Pyaaz ki Kachori is the favourite breakfast of Rajasthan people. The onion-stuffed Kachoris are deep-fried in hot oil. After that, the hot kachoris are served with chutney and Dahi. This great food of Rajasthan is also known as famous street food. Many street food stalls deliver this excellent breakfast to people. The crunchiness of kachori with spicy onion staff will provide you with a delicious taste for every visitor. 
5. Mawa Kachori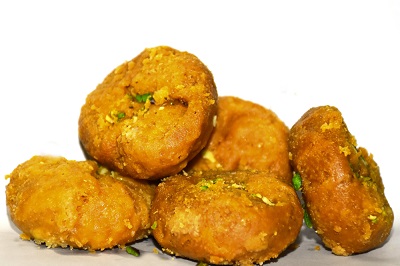 Mawa Kachori is an excellent Rajasthani dish. The sweetness of this dish can change your mood and provide peace to you. So, the crunchy kachoris are stuffed with sweet Mawas and dry foods. People love to eat this dish in their breakfast, to start their day with lots of sweets. In Jodhpur of Rajasthan, Mawa Kachori is the favourite breakfast for every person. During your Rajasthan tour, you must try this famous food to know the taste of sweet Kachoris. 
6. Mohan Thal
Another unique and famous food of Rajasthan is Mohanthal. Mostly you will get this dish as a dessert at every restaurant and hotel in Rajasthan. By mixing Besan and dry fruits, this unique dish is prepared. Also, the taste of pure ghee in this dish will provide you with a fantastic taste. This royal and aromatic sweet dish of Rajasthan is famous all over India.  
7. Gatte ki Sabzi
Gatte is the all-time favourite food of Rajasthan. One can use this Gattee in different foods like shahi Gatte, masala Gatte and Gatte gravies. Gates are prepared and served with the Rajasthani main course using various spices. Moreover, you can also find the Gatte ki pulao in Rajasthan, where Gatte replaces vegetables to prepare this fantastic food. The Rajasthan foods are incomplete without Gatte. 
8. Rajasthani Kadhi
Kadhi is famous all over India, but the preparation process of Rajasthani Kadhi is different. The use of spices in the pakoda gravy will provide a unique taste. The besan parodies are uniquely prepared with mouth-watering spicy sauce. People love to eat this food with plain rice in their lunch. 
9. Ghevar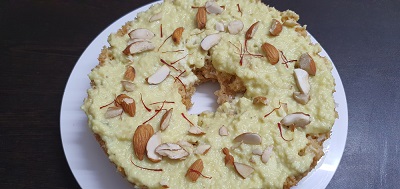 If you are a sweet lover, this food will blow your mind. You will taste another level and delicious sweet dish, Ghevar, in Rajasthan. Rajasthan's best food Ghevar is crunchy and looks like foam. The sweet crunches of this dish provide you with a beautiful experience of Rajasthani foods. Many people also called it the crown of the Rajasthan dish. 
10. Moong Ki Daal Ka Halwa
Moong ki Daal ka Halwa is the winter special dish of Rajasthan. It is Rajasthan's best food, mainly shown in royal marriages and restaurants of Rajasthan. The sweetness of this dish will make you a sweet lover. This dish is rich with dry fruits and Moong, which gives you a royal and unique feeling. 
11. Bajra ki Roti with Lehsun Chutney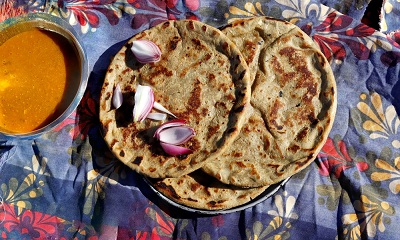 This Rajputana dish will make your Rajasthan tour more beautiful and exciting. You can enjoy the Bajra ki roti with hot Lehsun chutney. The crispy Roti provides a fantastic taste with the hot chutney. Also, the chutney preparation is made from red hot chillies, garlic and cloves. This delicious dish is one of the favourites and regular dinners of Rajasthan people. 
12. Churma Ladoo
The Churma Ladoo is famous in both Rajasthan and Gujarat. The mixture of whole wheat, jaggery, pure ghee and dry fruits will create an amazing Churma Ladoo. The garnished poppy seeds on the top of these Ladoos will give you an authentic taste. This special Ladoo is for some special occasions and festivals of Rajasthan. Besides this, you can also enjoy the sweetness of this Ladoo in restaurants in Rajasthan. 
Also Read Traveling Essentials You Must Carry With You  
Conclusion 
In conclusion, the food of Rajasthan gives you a royal feeling during your Rajasthan tour. The uniqueness of each Rajasthan dish can make a person a food lover. So you must try all these famous Rajasthan dishes on your Rajasthan trip to know the aromatic flavour of Rajasthan.